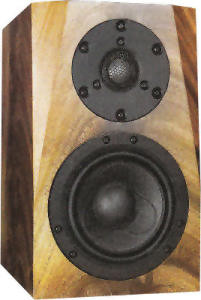 Illuminata 15 Beryllium Illuminata 15 by Bernd Timmermanns is a monitor for...
more
Product information "Illuminata 15 Beryllium"
Illuminata 15 Beryllium
Illuminata 15 by Bernd Timmermanns is a monitor for outstanding distortion-free music reproduction. It contains a Scan Speak Illuminator woofer 15WU / 8741T00, which is controlled by a capacitor in a closed housing (principle: GHP). In the treble range, this is accompanied by one of three tweeters: Scan Speak ring radiator R2604 / 832000 or fabric dome D3004 / 662000 or illuminator D3004 / 664000 with beryllium membrane. The crossover is a 3rd order crossover. In series with the woofer, an extra capacitor is used (hence the name GHP). The frequency response of the box is largely linear, the decay behavior is extremely fast with beryllium membrane; the nonlinear distortions are very small (except in the variant with the ring radiator).
From Hobby-Hifi;
"Mit dem Discovery-Ringstrahler klingt unsere Illuminata 15 vorbildlich ausgewogen und vollkommen unverfärbt. Stimmen wirken perfekt natürlich, Instrumente authentisch. Der Hochtonbereich gibt sich wunderbar fein ziseliert, entspannt und klar. Beispielhaft entschlackt klingt der Mitten- und Grundtonbereich. Stimmen haben blitzblanke Konturen, und das gilt auch für einen Bassbariton: Der erdige Blues von Hans Theessink (Call Me) wirkt wunderbar authentisch. Die räumliche Abbildung gelingt vergleichsweise kompakt, dabei in der Breite und Tiefe bestens aufgefächert. Die Positionen der Klangquellen sind einwandfrei nachvollziehbar, auch wenn der dargestellte Raum nicht sehr weitläufig wirkt. Mit einer Wand im Rücken und Hochpasskondensator vor dem Tiefmitteltöner zeigt sich ein erstaunlich tiefer Bass von beeindruckend klarer Durchzeichnung. Einen so zierlichen Lautsprecher, der - zumal ohne Bassreflexunterstützung - zu solch einer Tiefbassleistung fähig ist, haben wir zuvor nicht erlebt - alleine schon damit ist der Illuminator-Tiefmitteltöner sein Geld wert. Frei stehend verzichteten wir gerne auf den teuren Kondensator im Signalweg zum Tiefmitteltöner: Hochpassgefiltert wirkte das Klangbild zu asketisch - der Wunsch nach einem Subwoofer wurde geäußert. Dann lieber weniger Tiefbass und dafür ein satteres Klangvolumen. Ganz klar: Frei stehend sind im Bass Abstriche zu machen. Dann ergänzt ein Bassmodul wie der zu diesem Zweck hinzugezogene Gemini-Sub (Bauvorschlag in HOBBY HiFi 3/2009), der dank impulskompensierter Bauweise einen grandios klaren und trockenen Tiefstbass ergänzt die Illuminata 15 perfekt. Dass der Discovery-Hochtöner bei aller Souveränität und sauberen Darstellung doch ein wenig zu brav auftritt, macht die Illuminator-Gewebekalotte klar: Die holt deutlich mehr Detailinformationen aus der Musik heraus. Das vielfältige Schlaginstrumentarium der O-Zone Percussion Group, zu finden auf der kongenialen Manger'schen Hörtest-CD, wirkt eine gute Portion lebhafter "oben herum" ist viel mehr los. Sowohl in punkto Grobdynamik hat die Gewebekalotte mehr zu bieten als der Ringstrahler. Die räumliche Abbildung wirkt ein gutes Stück großräumiger. Dass das letztlich aber schon ein Tick zu viel des Guten ist, macht der grandiose Beryllium-Hochtöner mit entwaffnender Ehrlichkeit klar. Die feinen Details stellt auch er wunderbar nachvollziehbar dar, aber ohne sie zu forcieren: Die Gewebekalotte wirkt in diesem Vergleich schon etwas aufgesetzt. Räumlich bietet die Berylliumkalotte vor allem in der Tiefe noch einmal mehr. Die musikalische Bühne erstreckt sich weiter in die Tiefe ohne dabei den Nahbereich zu vernachlässigen. Sie erledigt ihren Job viel entspannter, stellt die filigranen musikalischen Elemente mit größter Selbstverständlichkeit in den Raum. Dieser Hochtöner ist der Maßstab." ...
The Illuminata 15 kit contains:
ScanSpeak Illuminator D3004/6640-00, Beryllium
ScanSpeak 15WU8741T 8Ohm
0,5x Bondum 800 (30 x 50 x 2 cm)
0,5x Sonofil damping, white
PE-Afdichting, 5x2 mm
Terminals M6/27 gold, Pair,
2m OFC speakercable 2x2,5 mm2, transparent
Hexagon screw 4x25mm, sw. 12 Stück
ClarityCap PWA 1,5 uF / 160 Vdc
ClarityCap PWA 12 uF / 160 Vdc
ClarityCap PWA 15 uF / 160 Vdc
ClarityCap PWA 33 uF / 160 Vdc
ClarityCap SA 4,3uF / 630 Vdc
ClarityCap SA 10 uF / 630 Vdc
3x Mundorf Elko smooth, 100uF / 50 Vdc
Aircoil 0.50mm, 0,47 mH
Aircoil 0.50mm, 2,2 mH
Aircoil 0.70mm, 0,39 mH
Aircoil 1.40mm, 1,0 mH
Aircoil 1.40mm, 2,2 mH
Resistor MOX5 10 Ohm
Resistor MOX10 6,8 Ohm
Resistor MOX10 8,2 Ohm
Resistor MOX10 12 Ohm
Drawings for this kit
Related links to "Illuminata 15 Beryllium"
Available downloads:
Read, write and discuss reviews...
more
Customer evaluation for "Illuminata 15 Beryllium"
Write an evaluation
Evaluations will be activated after verification.