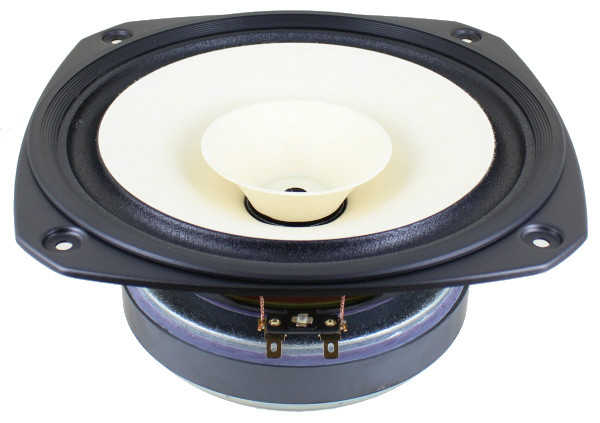 FE206NV is a speaker unit developed as a successor to the FE266EN. A three-dimensional sound...
more
Product information "Fostex FE206NV"
FE206NV is a speaker unit developed as a successor to the FE266EN. A three-dimensional sound field expression has been achieved while maintaining the bright and strong tone characteristic of the FE-EN series. The small caliber blends rich bass and gorgeous mid-high range to make music stand out.

The frame size and the positions of screw hole of each model are identical to the -EN version except for a few millimeter difference in the height.

Features
New cone paper is based on vigorously beaten kenaf fiber. Mixing long and short fibers of non-wood pulp maintains appropriate internal loss and stiffness. By mixing chemical fiber and mineral ore as secondary material, it improves propagation speed and rigidity.
The metallic eyelets used to be added to the diaphragm result in uneven weight balance, causing unequal split resonance in addition to the annular vibration mode possessed by the cone-shaped diaphragm, which causes distortion in the midrange. By eliminating the metallic eyelets, new FE-NV series offer reduced harmonic distortion in the midrange.
The pocket neck spider developed in the FF-WK series has been adopted to continue the three-point bonding of the voice coil and the damper and cone paper on the same circumference. The shape and material of the dampers have been reviewed for more linear amplitude characteristic than the current FE-En series.
A low-loss gold-plated terminal with Faston 205 type connector has been adopted.
Specifications
power handling (continuous/programme) = 30/? W
frequency range = 44,7-18000 Hz
resonance frequency fs = 44,7 Hz
impedance R = 8 Ohm
sound pressure level SPL = 96 dB (2,83V; 1m)
DC resistance Re = 7,2 Ohm
force factor BL = 10,7 N/A
voice coil inductance L = 0,1 mH
effective mechanical mass incl. air load mms = 15,2 g
equivalent volume of compliance Vas = 50,2 l
total Q factor Qts = 0,26 (Qms=7,25, Qes=0,27)
voice coil diameter = 35 mm
mounting diameter d = 185 mm
overall diameter d = 208 mm
mounting depth (not countersunk) t = 89,3 mm
Related links to "Fostex FE206NV"
Read, write and discuss reviews...
more
Customer evaluation for "Fostex FE206NV"
Write an evaluation
Evaluations will be activated after verification.