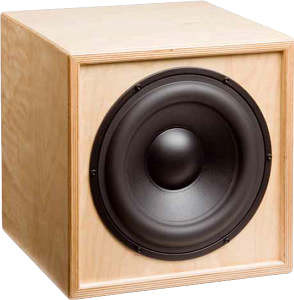 Nelson was originally a satellite subwoofer system. Since the satellite no longer exists, today...
more
Product information "Nelson Sub"
Nelson was originally a satellite subwoofer system. Since the satellite no longer exists, today we only sell the subwoofer. It can be combined with any satellites. The frequency response of the Nelson subwoofer can be adjusted via the active module. The subwoofer is closed to create as tight and "bump-free" bass. If you value extreme low bass, we recommend it for home cinema, for example: Don.
An excerpt from Klang+Ton listeningtest
... "In the listening room, the Nelson station wagon offers a performance almost like a picture book.The satellites play breezy and free and amaze with a very good omnidirectional behavior and a very exact spatial representation.The subwoofer is with its crossover frequency on the edge of the Ortbarkeit, in practice, it can not be localized while listening because its overall playing style is very precise and free from distortion, and the solid construction of the case also contributes to this and gives no chance to vibration. "The small PA broadbands do their job as a midrange The tweeter blends seamlessly into the sound and offers a detailed and neatly staggered reproduction, clearly showing the team its relaxed and relaxed manner - the level reserves Thanks, the music you play is of secondary importance, as this combo plays everything crisp and casually lt, eg, whether fine and quiet or loud and coarse. Thanks to its capability for loud sounds, the system can also be used for TV or home cinema, especially as the compact dimensions of the satellites make for an unobtrusive installation in the living room. Due to the ultra-compact design, it is even possible to set up one of the satellites as a center vertically and thus to preserve the good omnidirectional behavior - the 2.1 system soon becomes a highly competent home cinema setup!"
Conclusion in Klang+Ton
"A level-stable and very universally applicable sub-satellite system with audiophile characteristics and a successful design."
Note: Because the detonation amplifier DT-80 is no longer available, we offer the kit with other amplifiers


Our kit consists of
Wavecor subwoofer SW270WA01, 4 ohms
Subwoofer module Mivoc AM 80 MK II
2x insulation Sonofil 100 x 35 cm f. 20 liters
Speaker cable 2x2.5 mm2, transparent
pan screws 3,5x17 black, 8 pieces
Allen screws 4x25mm, sw. 8 pieces
Blueprint for the kit
Kit without cabinet, price per box
Related links to "Nelson Sub"
Read, write and discuss reviews...
more
Customer evaluation for "Nelson Sub"
Write an evaluation
Evaluations will be activated after verification.