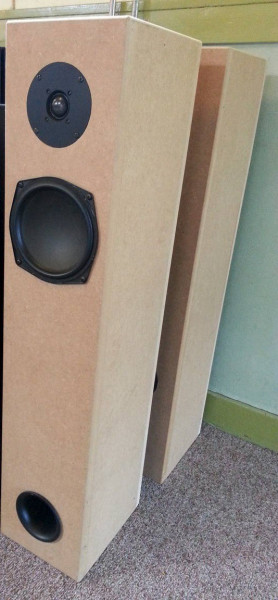 This product is currently not available.
Order number:

kit-missiont
MissionT Concept: Mass Loaded Transmission Line Dimensions: The...
more
Product information "MissionT (pair)"
MissionT
Concept: Mass Loaded Transmission Line
Dimensions:
The goal of many transmissionline designs is to have the typical bass but avoiding the inherent high frequency shortcomings of this type of loudspeaker. The main problem is a phase shift in the tops causing exaggerations and cancellations depending on frequency. The Massloaded Transmissionline is a concept wich turned out to be very succesfull for surpressing this behaviour.
The Massloaded Transmissionline consists of one straight transmissionline tube without folds. The lower frequencies hardly don't see any obstacles and turns, allowing the bass to travel through the tube without interference. Due to the specific placement of the bass driver in the line the negative characteristics of a transmissionline are almost entirely eliminated.
There is another positive aspect: the construction requirements remain modest, as it is only a straight tube made out of six panels.
The speaker is equipped with an HiVi K1 tweeter showing flat frequency response between 2 and 20 kHz (91 dB +/-2 dB).
For bass a Mission CP 168 is being used; hence the name MissionT.
Sold in a set for 2 speakers without wood panels
The kit contains
Mission CP-168
HiVi K1
Crossover kit
Terminal T105
Damping material
Cable
Fasteners
Seal tape
Building description
Related links to "MissionT (pair)"
Read, write and discuss reviews...
more
Customer evaluation for "MissionT (pair)"
Write an evaluation
Evaluations will be activated after verification.