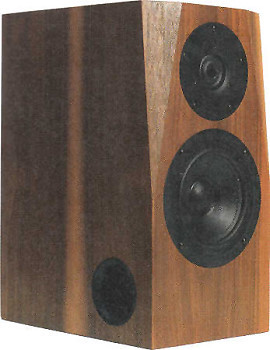 Technical data - impedance: 8 Ohm - sensivity (2,83V/1m): 85 dB - size (HxWxD): 360 x 180 x...
more
Product information "Scan-Speak ScaMo15"
Technical data
- impedance: 8 Ohm
- sensivity (2,83V/1m): 85 dB
- size (HxWxD): 360 x 180 x 270 mm
- frequency range (-8dB): 48 - 40000 Hz
- crossover frequency(s): 2000 Hz
- speaker type: bass reflex
ScaMo 15 is a monitor with scan speak chassis. The woofer is a Scan Speak driver of the Discovery series.
Bernd Timmermanns used a simple housing for ScaMo 15 which is easy to rebuild. The crossover consists of a second-order high-pass filter and a second-order low-pass filter. A resistor in series to the tweeter adjusts the level of the tweeter to the level of the woofer. A resistor divider was not chosen because the tweeters 4 Ohms impedance should be adapted to 8 Ohms.
In Parallel to the resistor a small capacitor is used, which raises the highest frequencies, so that the speaker reaches almost 40 000 Hz in frequency response.
The frequency response of the speaker-system is very flat; the decay spectrum is excellent and the non-linear distortions remain almost consistently below 0.3% at 90 dB SPL. These are excellent characteristics.


Our kit consists of
ScanSpeak ring radiator R2604/832000
ScanSpeak Woofer/midrange 15W-8434G00
Crossover parts
0,5x Damping fleece MT Bondum 800 (30 x 50 x 2 cm)
PE sealing tape, 5x2 mm
2x bass reflex tube HP50, 50x143mm, black
0.5x Damping Sonofil 100 x 35 cm for 20 litres
Binding Post PK31, gold plated (one pair, red and black)
2m Speaker cable 2x1.5 mm2, transparent
Pan screws 4x20 black, 12 pieces
Plan for DIY kit
Related links to "Scan-Speak ScaMo15"
Read, write and discuss reviews...
more
Customer evaluation for "Scan-Speak ScaMo15"
Write an evaluation
Evaluations will be activated after verification.