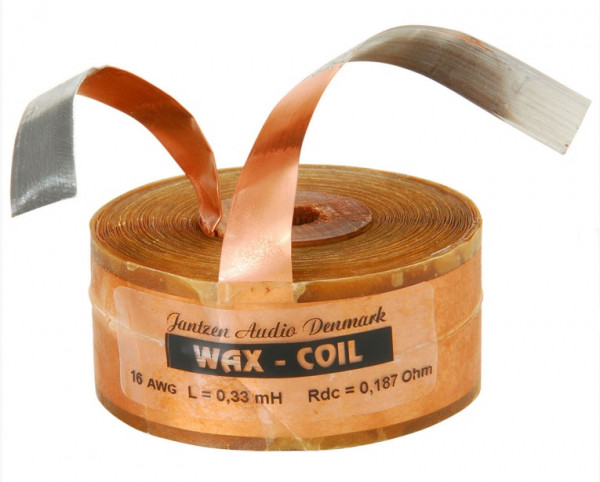 16 AWG = 1.275 mm2 Rdc = 0,070 Power handling 350 Watts RMS Tolerance: +/- 2% H*D (mm):...
more
Product information "0.05mH Wax Coil 16AWG"
16 AWG = 1.275 mm2
Rdc = 0,070
Power handling 350 Watts RMS
Tolerance: +/- 2%
H*D (mm): H 27.0 * D 40.0
The Jantzen Audio Wax Coil™ offers the next level in foil based audio-grade inductors. The Wax impregnation insures the copper foil and winding integrity for decades of high performance. Using pure copper foil we have insured a better surface for electron travel, a better distortion reduction and higher power handling, compared to wire inductors.
Wax type: Specially developed paraffin Wax to insure high temperature handling and also insures that the wax surface has no air bubbles.
Insulation: Special papertype between the windings. The entire coil is insulated by being impregnated with a unique paraffinwax type, especially developed for Jantzen Audio
Using copper foil offers improved dynamic headroom and a better surface for the travel of electrons (compared to standard type single-wire inductors)
If you take a 1.6 mm² copperwire and roll it flat, the copper surface area becomes 12 times larger. We know that with rising frequency, the electrons will reach for the surface. This Phenomenon is known as power distortion. And this is why we need as large a surface as we can get, so the electrons do not "get squeezed" along the way. Until recently, the only disadvantage with foil inductors was the price. But with Jantzen Audio's new production methods and specially constructed machinery, the price has been greatly reduced.
Power handling:
16 AWG 350 watts RMS
14 AWG 500 watts RMS
12 AWG 650 watts RMS
8 AWG 850 watts RMS
Related links to "0.05mH Wax Coil 16AWG"
Read, write and discuss reviews...
more
Customer evaluation for "0.05mH Wax Coil 16AWG"
Write an evaluation
Evaluations will be activated after verification.