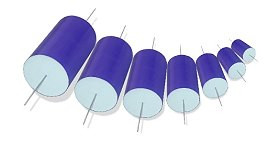 ClarityCap CSA 0.22uF 630Vdc Voltage rating: 630 Vdc Tolerance: +/- 3%...
more
Product information "0.22uF 630V 3% ClarityCap CSA"
ClarityCap CSA 0.22uF 630Vdc
Voltage rating: 630 Vdc
Tolerance: +/- 3%
D*L(mm):D 26 * L 28
The CSA range of capacitors is widely recognized as a sensibly priced premium audio grade capacitor. Time and time again users are astounded by the performance to price.
The capacitor was developed in conjunction with a well known and highly respected manufacturer of loudspeakers and has since become the product of choice for many manufacturers around the world.
The capacitors are wound onto a nylon core using a 10µm (630Vdc) polypropylene film. This technique allows the winding tension to be tightly controlled, resulting in a capacitor devoid of as many air pockets as possible. Insulated copper terminals are hand soldered to give the best possible connection. The inherently low dissipation and dielectric absorption factors of polypropylene allied with the design's excellent mechanical stability results in an extremely detailed sonic performance.
As with all ClarityCap products tape and resin colours are flexible. Unless otherwise specified SA capacitors are supplied with black tape and black resin.
Claritycap's unique CopperConnect technology addresses a hitherto under explored area of audio capacitor performance. Dielectric, electrode and lead wire materials have all been extensively optimised over the years. Connection of capacitor electrodes to the leads has always relied on thermal arc spray of tin-zinc, which results in hundreds of thousands of oxidised grain boundaries introducing; distortion and phase shifts at boundary crossings and increasing propagation impedance with diameter. CopperConnect technology introduces an embedded copper lattice to the end connection, dramatically reducing grain boundary crossings and signal path resistance, freeing capacitor designs achieve new levels of audio performance.
Taking inspiration from the highly regarded ESA range, the CSA employs the same carefully researched micro-phonics reducing processing parameters. CopperConnect technology dramatically reduces grain boundary crossings in the end connection and enables designs to employ narrower films for reduced capacitor ESR without introducing the corollary increase in end connection impedance. The philosophy of eliminating as many crystal boundaries as possible is extended to the use of premium grade 1.0 mm2 tinned oxygen free copper leads. We are confident you'll agree ClarityCap's commitment to innovation has once again raised the bar for audiophile film capacitor performance.
Related links to "0.22uF 630V 3% ClarityCap CSA"
Read, write and discuss reviews...
more
Customer evaluation for "0.22uF 630V 3% ClarityCap CSA"
Write an evaluation
Evaluations will be activated after verification.